sustainability
Additive processing of recompounds
| Andreas Weseler

Sustainable and efficient component manufacturing
KraussMaffei will be presenting a special bar table at CompoundingWorld Expo Europe in June 2023. But what makes this table so special? It´s printed. Produced with KraussMaffei's granulate-based large-format 3D printer powerPrint.
However, what makes this solution special is not only the table itself, but also the raw materials used for its production, which are based on recycled goods. In addition, it is noteworthy that all of the machine equipment used to manufacture the table, from the compounding line with ZE BluePower to additive manufacturing solutions and the film extrusion line for the tabletop, comes from a single source.
The standing table once again demonstrates the versatility and flexibility of KraussMaffei solutions in the field of compounding and manufacturing. High-quality raw materials are crucial for any plastics processing operation to produce high-quality end products. If the input material is based on recyclates, the manufacturing process plays a particularly important role. KraussMaffei has core competencies in the compounding of first-class recompounds based on recycled material.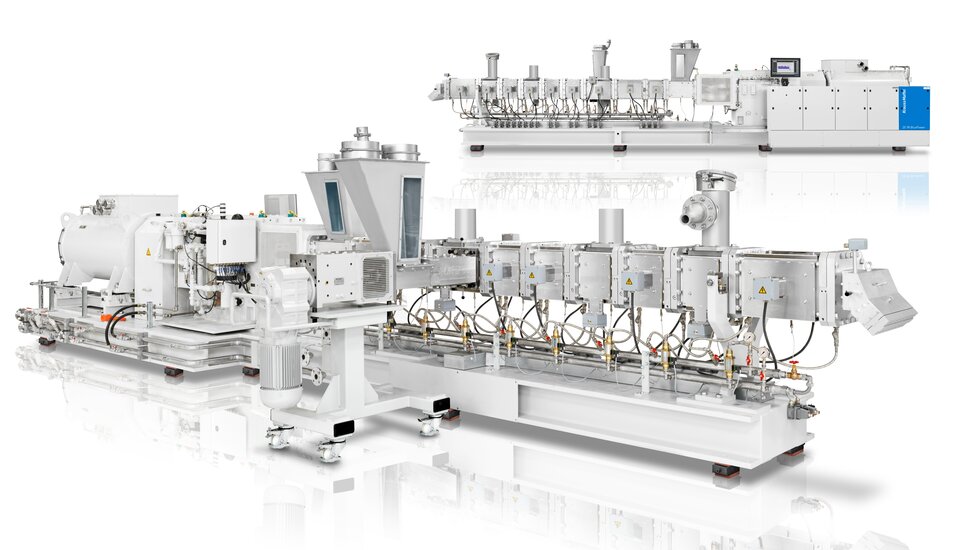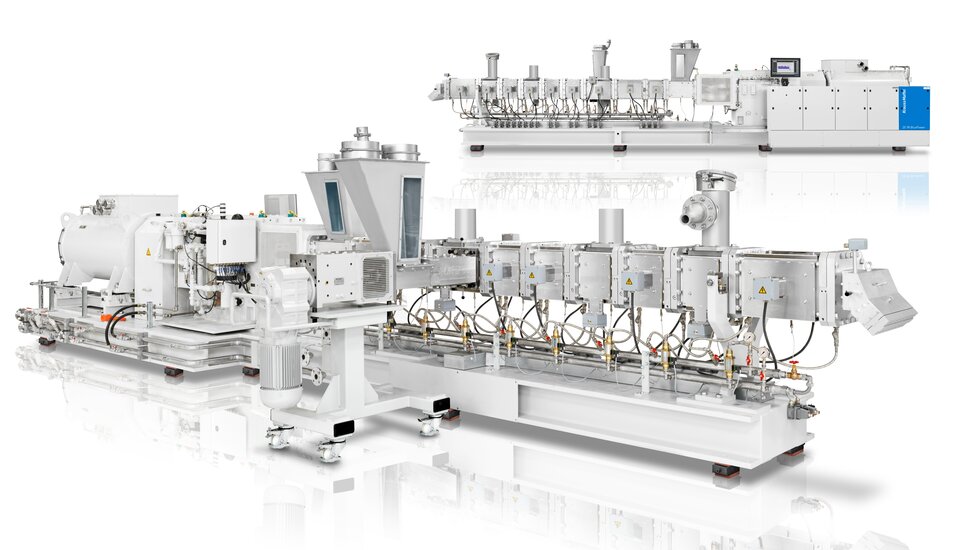 In particular, the well-known ZE BluePower twin-screw extruder from KraussMaffei, with its ideal ratio of screw volume to screw torque, is suitable for optimum melt homogenization and the incorporation of additives and glass fibers, as required in this case. KraussMaffei offers corresponding metering systems for solid and liquid additives as well as degassing openings through which moisture, volatile components and odor buildup can escape when processing recycled goods. All these features complete the ZE BluePower processing unit.
Thanks to KraussMaffei's mechanical engineering expertise and extensive knowledge of formulations, recompounds for additive manufacturing can be produced in ideal quality. Various material types and recyclate components with glass fiber or carbon fiber reinforcement as well as corresponding color masterbatches can be used.
Sustainable and efficient component production
The powerPrint offers several special features for the industrial production of components. For example, the direct use of pellets produced in the compounding line instead of taking a detour via filament production makes the process more flexible, economical and sustainable.
In addition, the powerPrint enables the printing of large-format components with dimensions of up to 2m x 2.5m x 2m. The printer's closed and thermally insulated installation space enables the reliable production of molds for toolmaking, autoclave components or pipe and duct shafts with high process stability.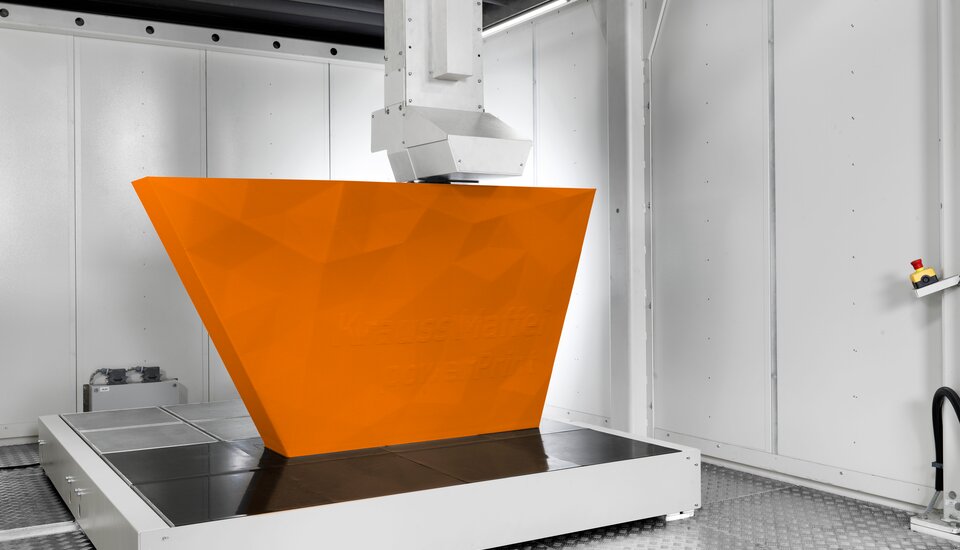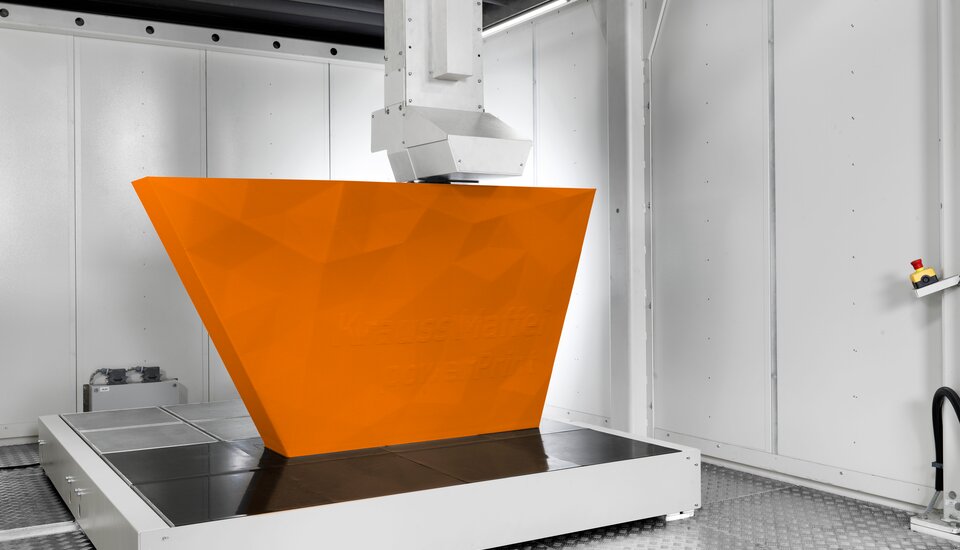 As an extruder-based system, the powerPrint can not only process granules directly, but also use a variety of raw materials at temperatures of up to 400 °C. KraussMaffei has extensive expertise in extruder design, which means the processing unit has high wear resistance at high production speeds. This means that customer-specific designs can be implemented at any time.
Table tops made from recycled material
The table on display at the trade show, which was printed using the powerPrint, impressively demonstrates the possibilities for producing large components based on compounds made from recycled material. KraussMaffei also offers a suitable processing machine for producing the tabletop from recycled material.
A special feature of the tabletop shown at the trade show is that it is actually a floor covering that has been applied to the table. In this case, it is a 5 mm thick floor covering that was produced on an inline compounding and laminating line. This flooring is made of a mono-material solution that can be easily recycled. The laminated decorative film is made of pure PP, while PP with a high chalk content of 80% is used for the core film.
KraussMaffei is thus demonstrating how they can also use recycled material for the production of table tops, offering an environmentally friendly mono-material solution.
Find articles with similar topics:
---
More articles like this

08.09.2022 | Andreas Weseler