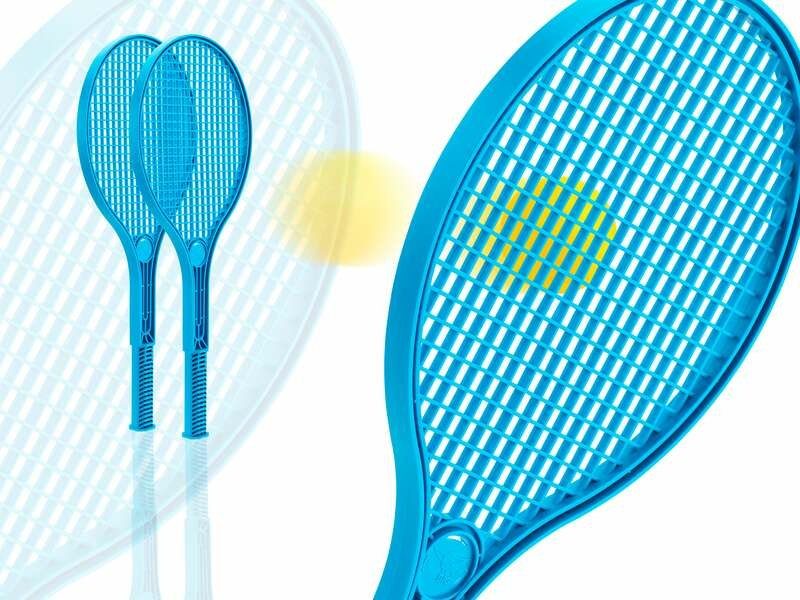 sustainability
Sustainable and efficient toy production
| Petra Rehmet

New precisionMolding at K with bio-plastics application
How can sustainability be combined with efficiency in the toy industry? One solution is demonstrated by the new precisionMolding injection molding machine at K 2022, for which it produces a softball tennis racket from 100 percent renewable raw materials.
Sustainable toys are very popular. As a result, an increasing number of manufacturers are using environmentally friendly plastics for their products, for example based on bioplastics or made from recycled materials.
At K 2022, KraussMaffei will be demonstrating how sustainable toys can be successfully produced. Softball tennis bats made of 100 percent bio-PE will be manufactured on a precisionMolding 160-750 (clamping force 1600 kN) of the new all-electric injection molding machine series.
The sugarcane-based bioplastic from FKUR not only binds CO2 during production, but is also particularly robust and durable. After use, it can be 100 percent recycled. The material thus makes a valuable contribution to conserving fossil resources.
APCplus plays an important role when it comes to processing bio-based material. Similar to the method employed for fossil-based plastics, KraussMaffei's machine function reliably compensates for the usual process fluctuations. Thus it ensures consistently high component quality. This means that every part is a good part – which saves precious materials.
Fast-track route to all-electric injection molding
The new precisionMolding from KraussMaffei is ideal for this application and stands for cost-optimized, economical production with high power density and fast availability. As a modular machine with a selected range of options, it is a sensible addition to the proven all-electric PX series from KraussMaffei.
With the modular machine concept with selected options, we offer our customers outstanding fast reaction times to enhance their efficiency and competitiveness. This opens up entirely new potential markets and applications for our customers.

Xiaojun Cui
Executive Vice President New Machines Business
The precisionMolding will be supplemented at K 2022 by an LRX EasyControl. The linear robot is ideal for simple pick-and-place applications and, in matching the new precisionMolding, can be operated intuitively. In combination, they offer a quick entry into all-electric injection molding and handling.
The new precisionMolding is not only suitable for applications in the toy industry, but also for standard applications in other industries, such as for technical parts, electrical and electronic equipment, as well as for the automotive, packaging and medical industries.
First launched on the Asian market in 2019, precisionMolding is now also available in Europe and North America and is raring to go with clamping forces of between 500 kN and 3200 kN.
Find articles with similar topics: