insights
The Champions League of apprenticeships
| Katharina Knaut

An interview with Thomas Deser, Teamlead Appreticeship, about the new generation of apprentices, the shortage of skilled workers and changed requirements in the working environment
Boundaries are only in your head - with this motto, Thomas Deser took over as Teamlead Apprenticeship at KraussMaffei at the beginning of March. In this interview, the 51-year-old talks about his first successes in his new job, his goals and why TikTok and Instagram have become indispensable in the department of apprenticeships.
KraussMaffei
Before you joined KraussMaffei, you spent 12 years in the German Bundeswehr and 15 years at the Chamber of Industry and Commerce. Why now the change of profession to Teamlead Apprenticeship?
Thomas Deser
The goal of taking up this profession was always in the back of my mind. Even when I was in the Bundeswehr, I was very interested in the field of training. I then graduated from the Chamber of Industry and Commerce as a technical business manager and was subsequently responsible for the exams in the electrotechnical area of the apprentices. In this way, there was a constant connection to companies, apprentices, trainers - and KraussMaffei. When the position of Teamlead Apprenticeship was advertised, my wife convinced me to apply. And now I'm here.
KraussMaffei
What do you like about this job?
Thomas Deser
The interaction with the young people. It is very exciting to lead almost 200 completely different individuals into a professional life. They´re all different, so you have to deal with each of them differently. The experience I've gained from 12 years in the Bundeswehr and 15 years at the Chamber of Industry and Commerce helps me a lot.
By 2025, we want to be the first choice in eastern Munich when it comes to apprenticeships.

Thomas Deser
Teamlead Apprenticeship
KraussMaffei
What are your goals?
Thomas Deser
I have a lot of goals! I´ve known KraussMaffei for a long time. The company offers excellent apprenticeships and a great environment. But with the move, now is the right time to say: We're starting something new. Since we moved to the new location in Parsdorf with the apprentices in January, we have introduced some innovations. For example, I have specifically promoted social media: We've been on TikTok since the beginning of April, and we're also planning a channel on Instagram. This is quite crucial for us to reach our target groups. We can only address potential apprentices via these channels. Thanks to my two sons, I am somewhat in the loop here. That's how I know: If we're not represented on the relevant social media platforms, no one knows us.
KraussMaffei
Those are ambitious goals. Are there any others?
Thomas Deser
I also want to give the apprentices not only technical but also general knowledge. We have introduced a "News of the World" discussion: Once a week, apprentices in small groups present current events, which we then discuss. We want the young people to open their blinders and find out about things outside of their training. This has been very well received.
KraussMaffei
When a apprentice reaches the end of his or her training - what should he or she have achieved?
Thomas Deser
I would like to see young people change and grow during this time. The years when apprentices are with us - the age between 15 and 19 - are so crucial. During this time, the personality develops tremendously. We take the young people by the hand and accompany them on this path - into professional life, but also into a new phase of life. One principle that I learned in the Bundeswehr is important to me: Leading by example. Young people must be able to develop freely, but in certain areas they need someone to set an example for them, to show them a direction. When a apprentice says at the end of his or her training: "I've learned a lot" - then I'm proud. That's actually the most important thing to me.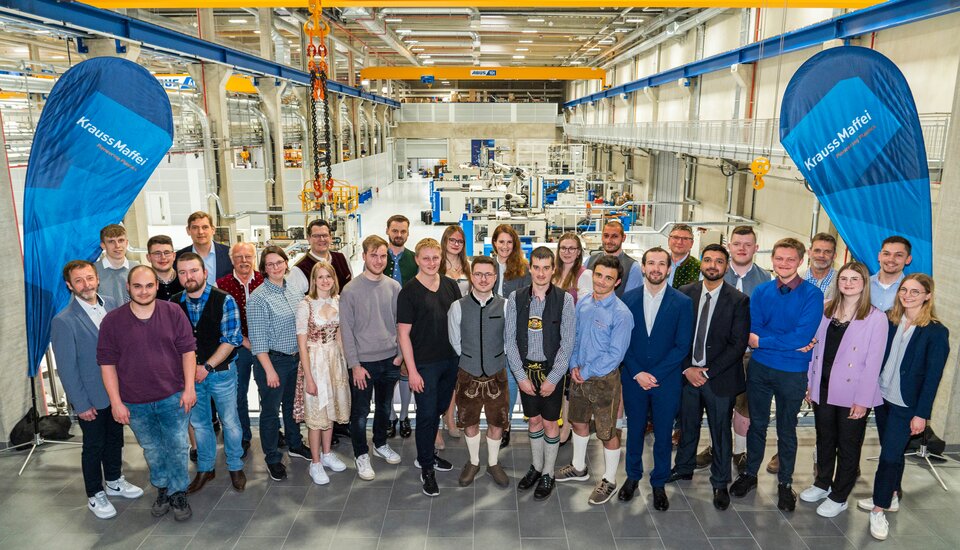 In mid-April, Thomas Deser congratulated 38 apprentices on successfully completing their apprenticeship. It is particularly important to him that the young people have learned a lot by then and have grown with their tasks.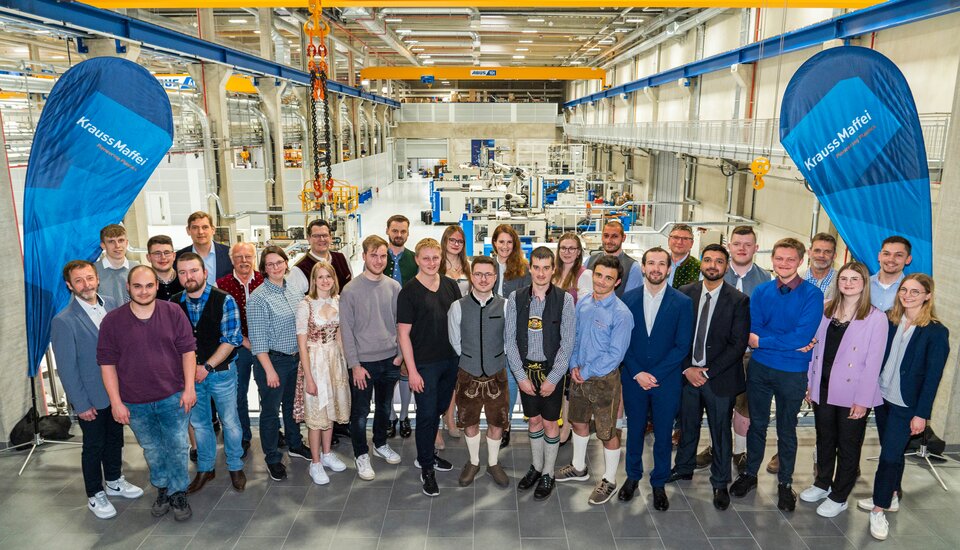 KraussMaffei
You´ve already mentioned social media - how do you intend to ensure that in times of a shortage of skilled workers, young people will still decide to start an apprenticeship at KraussMaffei?
Thomas Deser
We need to be more convincing, for example at the secondary schools. Many graduates want to go to a specialized secondary school like a FOS after graduation without knowing the alternatives. For example, they can also complete a specialized high school diploma after or even during their apprenticeship. We have to do a better job of showing young people these paths. Cooperation with schools is very important here. In Poing and Vaterstetten, for example, we accompany students from the sixth grade onward. We go to the secondary schools and carry out different projects with each year's class. For example, a trainer comes to the school and gives an introduction to metalworking and electrical engineering. In the seventh, eighth and ninth grades, the students then visit us in the apprenticeship workshop and complete internships. We also want to involve the teachers in this. We bring the students from the school desk directly to us in the apprenticeship.
With the site in Parsdorf, we have arrived in the Champions League of apprenticeship.

Thomas Deser
Teamlead Apprenticeship
KraussMaffei
Does the concept of training have to change?
Thomas Deser
We have to ask ourselves: Do our apprenticeships fit the jobs we need in our company - and do they fit the jobs that apprentices do after they graduate? I've gained a lot of experience in this thanks to my time at the Chamber of Industry and Commerce. The goal must be that they enjoy their jobs and are neither over- nor under-challenged with their tasks. Only then will they stay with the company.
KraussMaffei
What are you most looking forward to?
Thomas Deser
I look forward to going to work every day. With the site in Parsdorf, we have arrived in the Champions League of apprenticeship. Now we have to show that, too. By 2025, we want to be the first choice in eastern Munich when it comes to apprenticeship. That is my goal. And we're all working together to achieve it.